While the gulf between rich and poor has noticeably widened in this country, check out
the gap
between the very rich one in Cuba and everyone else.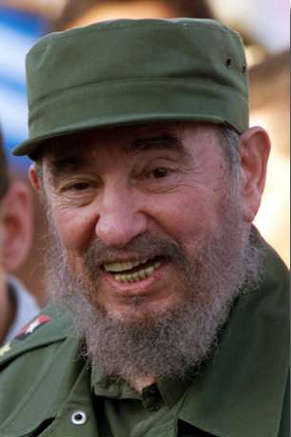 Cuban President Fidel Castro was furious when Forbes magazine estimated his fortune at $550 million last year. This year, the magazine upped its estimate of the communist leader's wealth to a cool $900 million.

Castro, who says his net worth is nil, is likely the beneficiary of up to $900 million, based on his control of state-owned companies, the U.S. financial magazine said in its annual tally of "Kings, Queens & Dictators" fortunes on Thursday.
I'm not going to do the math, but I'd estimate Castro has more money than everyone else in his island country put together.
Kings and sheikhs of the oil-rich Gulf Arab states still top the Forbes list, to be published in its May 22 edition.

Saudi King Abdullah is number one with an estimated $21 billion, followed by Sultan Hassanal Bolkiah of Brunei at $20 billion and United Arab Emirates' President Sheikh Khalifa bin Zayed al-Nahayan at $19 billion.

Among Europeans, Prince Hans-Adam II of Liechtenstein improved upon his family fortune of palaces, real estate and artwork with an investment in a U.S. producer of hybrid rice, for total estimated riches of $4 billion
I'm not sure why, but I've always wanted to go to
Liechtenstein.
I don't know anyone who's been there ... maybe the name just sounds cool. Looks nice, though: