My two biggest soft spots: old people and cats, orange tabbies in particular. So
"Harry and Tonto"
(1974) was made for me. The plot may sound contrived and overly sentimental, but great acting (from Art Carney, aka Norton from "The Honeymooners," and his feline sidekick) and solid writing overcome the usual traps: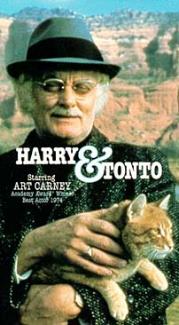 Harry is a retired teacher in his seventies living in an area of New York City where he & his deceased wife raised his children - where he's lived all his life. When the building he lives in is torn down to make way for a parking garage, Harry and his cat Tonto begin a journey across America, visiting his children, seeing a world he never seemed to have the time to see before, making new friends and saying goodbye to old ones.
Carney beat out Jack Nicholson ("Chinatown") and Al Pacino ("The Godfather: Part II") for Best Actor at the Oscars that year. You could make a strong case for the other two (hell, I could easily make that case), but I'm always happy when an old guy triumphs.
Unfortunately,
Richard Farnsworth
didn't win for
"The Straight Story"
in 2000 -- Kevin Spacey did, for the vastly overrated "American Beauty"). "Straight" is a beautiful movie, best known as David Lynch's unexpected U-turn into the G-rated mainstream. But Lynch does straightfoward as well as he does macabre (see: "The Elephant Man"); he's unjustly overlooked as one of cinema's more versatile directors.
Hell, he made me cry with "The Straight Story," in which Farnsworth drives his lawn mower across two states to reunite with his estranged brother (Harry Dean Stanton).
Both these movies are stuffed with dignity, and prove that one can be sweet without being saccharaine.